We are delighted to have been crowned the winner of two prestigious awards at the annual North Devon Manufacturers Association (NDMA) Awards 2022.
We have been awarded the Product of the Year Award for our underwater acoustic sensor, KraitArray V1.5+. The technology is a highly capable acoustic sensor that is small, lightweight, low powered and cost-effective, and can be applied to all types of vessels from wave-powered uncrewed vessels to naval frigates. Alongside several applications such as underwater surveillance and environmental monitoring, KraitArray has been developed to provide navies with an agile solution to detect and track submarines.
Due to increasing political tension across the world, there has been a growing desire for nations to have a greater undersea situational awareness within their own waters. Uncrewed vessels complimented with KraitArray, and associated processing capabilities, provide an increased presence for military and civil enforcement for a fraction of the operating cost, while at the same time protecting civilians.
In a clear demonstration of the innovative nature of the KraitArray, we received our largest order for the KraitArray V1.5+ at the end of 2020 for end-use on platforms that do not require a crew to operate. Delivered in late 2021, the contract was significant for the business, enabling it to double the size of the product development team in under 12 months. The contract also had a positive impact on many of our partner organisations within the North Devon economy.
Paulie McCartan, Head of Undersea Battlespace said: "We're incredibly proud to receive the Product of the Year Award, it's a clear testament to the hard work and dedication of the team to have the capability acknowledged within this competitive forum. The KraitArray is a truly innovative capability, which pushes the boundaries of engineering and has put SEA on the map across the globe."
Our second win of the night was for Apprentice of the Year, which was awarded to Joseph Oldham for his achievements throughout the final year of his Apprenticeship, completed in summer 2022.
Throughout Joseph's apprenticeship, he developed his knowledge of a range of products and services supported and manufactured by SEA. This included its innovative low-profile sonar arrays, torpedo launcher systems, naval communications systems and - away from defence technology - transport management camera systems for local authorities.
Joseph received well-deserved recognition for his outstanding work on two solutions in particular, with the build of a KraitArray transportation trolley noted as a truly stand-out achievement. His design led to the creation of a prototype which, following trials, is due to enter production in the coming months.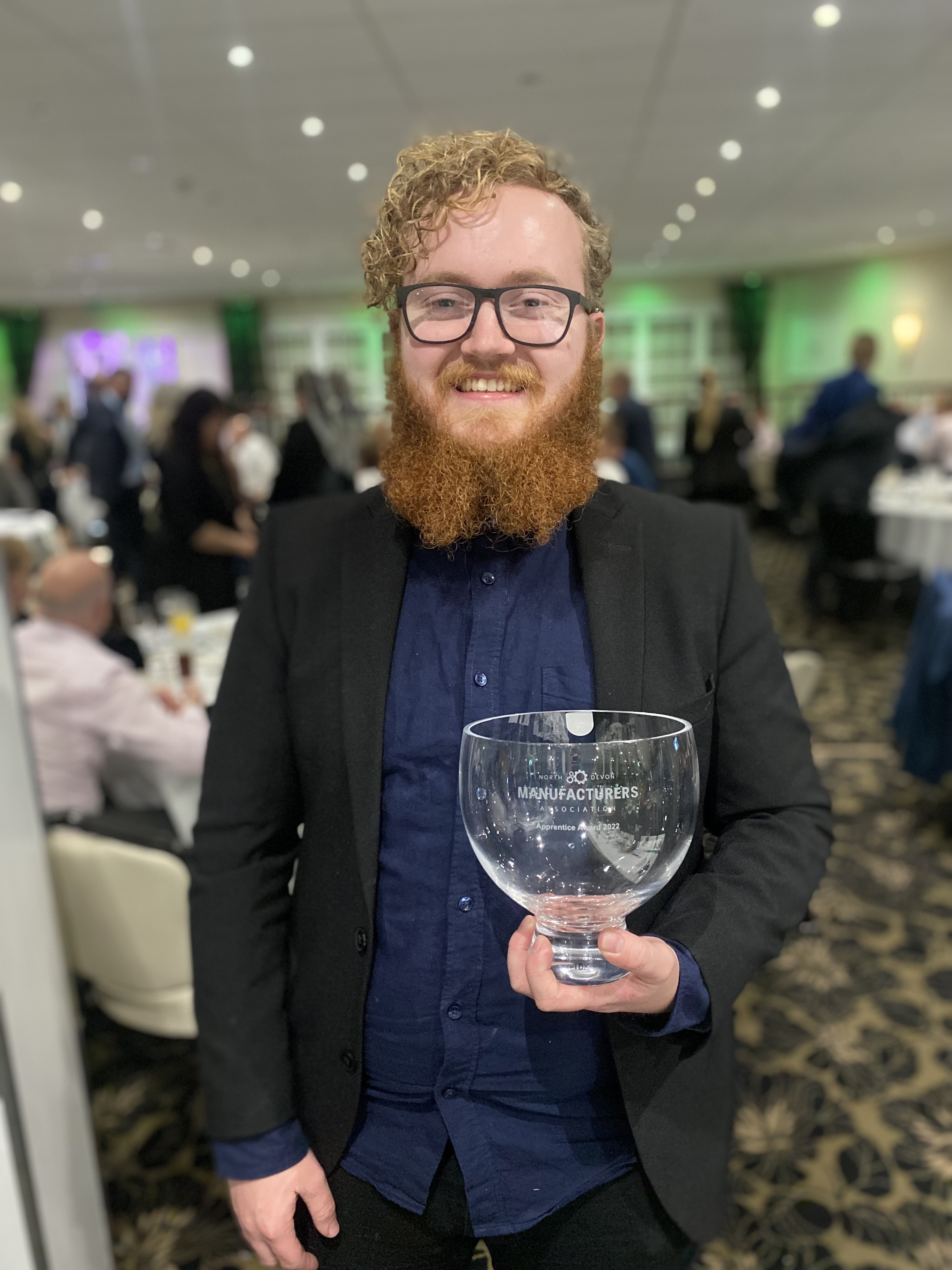 Thirdly, Junior Buyer, Liam Moan, was also shortlisted as runner-up for the Trainee of the Year Award. Liam undertook his NVQ Level 2 apprenticeship qualification in Improving Operational Performance (Performing Manufacturing Operations), successfully completing a two-year course in 18 months whilst working onsite at our production facility throughout the pandemic. Liam achieved excellent results and was recognised for his positive work ethic and commitment to professional development. Now working within the Supply Chain department, Liam continues to focus on delivering an excellent service across the business and to customers.
Dave Grealis, Operations Director said: "I'd like to congratulate Joseph Oldham for his Apprentice of the Year Award win and Liam for being shortlisted as Trainee of the Year. We know that by developing the emerging talent of today, we'll continue to make a better tomorrow for our business, and our customers. Joseph and Liam are both fantastic members of our team and have brought new ideas, focused work ethic and a positive attitude into the company, truly setting a standard. I look forward to seeing both of their careers progress long into the future here at SEA."