In honour of International Women's Day, we spoke to our Marketing Manager, Alice Moore, to learn more about her decade long career with us.
Alice started with us in 2013 as a Marketing Assistant, moving to Marketing Coordinator in 2015, Creative Design & Marketing Co-ordinator in 2017, and Marketing & Events Officer in 2019. Just over two years later in 2021, she was promoted to Marketing Manager, and she's now leading a team of two.
Upon reflection of her time here at SEA, this is what Alice said:
If you ask someone what I do, they'll probably say: "I think you she makes things look pretty and she shouts at me for not using the right logo", but I do a lot more than that! I manage our external and internal brand, communications, events, and stakeholders. I also drive cross-Cohort group collaboration. I love how two days are never the same.  
I'm lucky enough to have built up a massive support network here, which helped me get this to this stage in my career, and I learn a lot from the people around me. I know it's cliché, but aside from all the perks, the people really make all the difference. People who know me will agree I'm incredibly talkative and always like to ask questions to drive results. (Not just because I'm nosey, honest!) 
My role as Marketing Manager is very forward-looking. My previous roles have been more about 'doing', rather than planning, and now I get to touch on the full Marketing mix rather than a single aspect. I love being more involved in the strategic direction of the business, and I get really excited to work on bolstering our brand by highlighting our successes in new ways.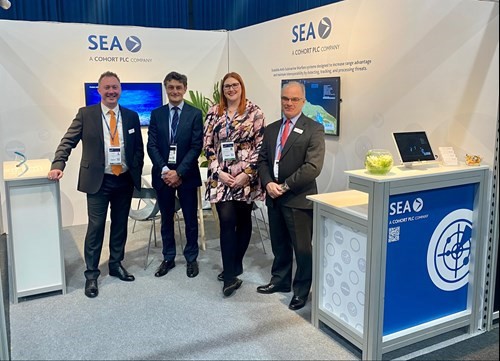 Changing roles and managers hasn't always been easy, but it's taught me a lot about the type of leader I want to be. I love how ambitious and driven my team is, and I want to support them as best I can in their own careers. Transitioning into this role has been quite natural for me, and one of my key missions is to have our department be seen as a more valuable and driving force in SEA. 
I'm very proud of how far we've come as a company, and I've had so many memorable moments along the way. Being part of the launch of the KraitArray for example, I'd only been at the company for a few years, and being trusted to be part of the naming ceremony was scary, but pretty awesome too.
Another more recent project is the website refresh. It was a team effort and together we managed to create a visually engaging platform which celebrates our people, products and services. I also got to present SEA on board of the HMS Prince of Wales, which was very special. The best part was that I was also joined by (then) apprentices and graduates from across SEA, so we all got to experience the magnitude of it together! 
I'm working on completing my Chartered Institute Marketing Level 5 certification. In a few years' time I hope to expand my team even further in line with business growth and requirement. I never expected the support I've gotten over the years, especially since taking on this role in 2021. I would love to be able to tell my younger self "Don't give up until you are proud of you! It really is true that hard work pays off, and you get out of life what you put in." 
To learn more about what our teams do here at SEA, click here.